Corona Regulations at HERE AHEAD
Your and our health is very important to us. Please find below important information on our Corona regulations.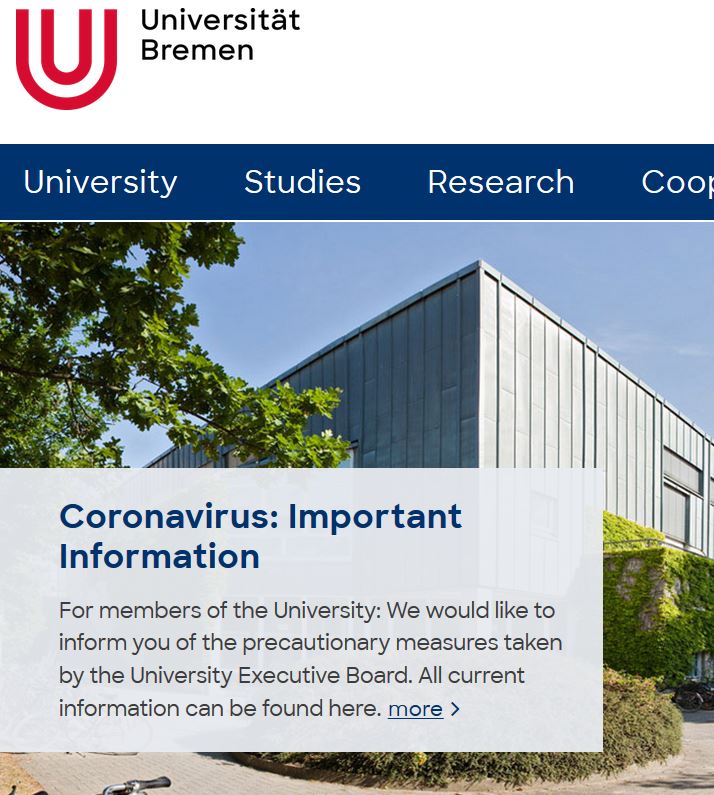 You can find the latest Corona regulations on the University's website
© University of Bremen
Our Academy is located on the campus of the University of Bremen. Therefore, we follow the rules of the University of Bremen. On the website www.uni-bremen.de/en/coronavirus the Uni publishes the latest information on how you can move around campus, where to wear a mask and how to behave.
Currently, it is mandatory to wear a mask within our building. Please, also sanitize your hands when entering the building. You'll find a dispenser in our foyer. Furthermore, we would like to ask you to sign in the displayed lists. This enables us to contact you in case of Corona cases as fast as possible.
Stay safe and sound.
Our offer online
We like to stay in touch!
As soon as we all became aware of the pandemic, we extended our online program. Currently we offer:
language courses
seminars for study preparation
mentoring
counselling
further seminars to be prepared for visiting a university in Germany.
Please do not hesitate to contact us for any questions or in need of counselling and support. You'll find our contact data here
Language courses online and in class
Our language courses usually take place in classes. That means, one course is a fixed group.
During lock-down, our language courses take place online. In addition to that, you participate in online meetings with your tutor as well as in the well-favored "Klönschnack"-meetings (plattdeutsch/Low-German for conversation), in which the group meets with us and talks about a given topic or just uses the chance to practice your German.
If possible, we will be offering courses in small groups again. We'll keep you informed!